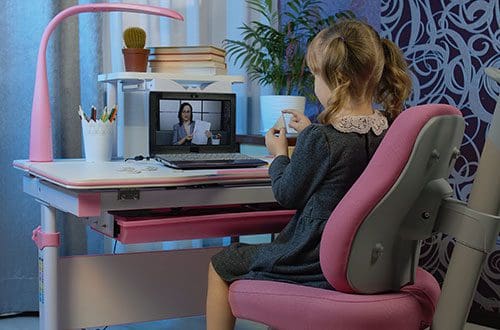 What is Telehealth?
Telehealth refers to therapy that is provided remotely by a licensed Speech-Language Pathologist and/or Occupational Therapist via a secured platform. We don't have a specific system that we use for Telehealth, but base it on the needs of each individual. If you elect to use our telehealth services you will receive an email with information on how to access it.
Why Telehealth?
Telehealth provides families with the convenience and flexibility to schedule when life gets busy. Transportation issues? Illness/COVID exposure? Since the beginning of the pandemic, telehealth services have proven to be a safe and effective option for clients to continue to receive quality and consistent therapy services.
How Does Telehealth Work?
The child can interact with a therapist just as they would in a one-on-one clinic/school setting while in the convenience of their own home. We can offer comprehensive evaluations, in addition to skilled treatment for both occupational therapy and speech-language therapy. Treatment may involve interactive games, crafts, storybooks, and/or music & videos to encourage the child's involvement during the visit. For the young child, the therapist may provide coaching and parent education to assist with any hands-on techniques that may be needed.
What Is Needed For Telehealth?
You need a computer with a microphone and a camera, in addition to a strong internet connection.
In order to have the most successful visit possible here are a list of things to keep in mind:
Prepare the room where you want your child to set-up for therapy. Please choose a quiet room in your home and limit any distractions in their space.
Allow an adequate amount of time at the beginning of the therapy session to appropriately setup their space and to prepare the child for the visit.
Be within shouting distance if the therapist requires your assistance to redirect the child.
Does Telehealth Work For Everyone?
No, this method of service does not work for all kids. Some kids may thrive using telehealth; however, others may continue to benefit from in-person services. It's important to discuss with your child's therapist, what the most effective form of treatment is for your child.